THE NEW BOOK ABOUT CAVE OF BADISCO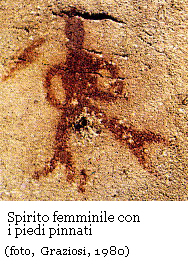 The book discusses the possible meaning of abstract paintings of The Deer Cave, a neolithic cave located in Puglia in southern Italy, whose interpretation has so far in the dark. The study is therefore the result of an unprecedented effort of interpretation that produced the only text on the subject after the monograph by Paolo Graziosi 1980. Contains Iconographic Album with the findings of all the paintings in the cave and explanations. Each of the five chapters is devoted to the five who discovered the cave: Isidoro Mattioli, Severino Albertini, Remo Mazzotta, Daniele Rizzo, Enzo Evangelists.
The Deer Cave has a lot of shrines adorned with France and Spain, the scanning of Sale, the profusion of art, the floor plan with more revenue, more part of a territory rich in Palaeolithic cave art. Would not it be excluded if it was hiding somewhere in a pre-existing temple unexplored, perhaps near or under water where no one has yet looked. Badisco Today Porto is a small village settled by tourists intrigued by the beautiful emerald waters and ancestral paintings photographed on postcards. But few know that his cave is a unique monument in Europe.